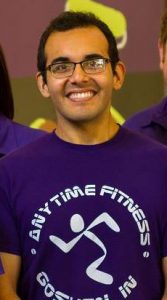 Name
Emmanuel Monge
Nickname
E-man, man of Goshen, Mr Tetris
Bio:
Hello, I am born and raised in the land of Goshen. Top 4 noticeable facts about me: I enjoy being a member of Sugar Grove Church, researching for My Simple Fitness, listening and watching to all that is Rat Pack (50's era), and spending time with my wife, Lindsey.
My academia was mostly Catholic schooling; I graduated from Marian in Mishawaka, IN, (go Knights!) where I participated in musicals, various groups (i.e. National Honor Society), and 4 sports including rugby which led me to Purdue (Boiler Up!). I graduated Purdue with more than a degree in behavioral neuroscience: I was part of two fraternities (Phi Kappa Sigma and Alpha Phi Omega), earned the Tip of The Cap Mortar Board Award through the university for my years of volunteer work (through S.H.O.T.S. – students helping others through service – volunteered every Friday for 2 semesters at the local Veteran's Home, Purdue Stadium Rescue Squad – where I was a volunteer EMT for home football games, weekly services for Meals on Wheels for three semesters, and averaged over 70 hours per semester while active in APO), and also played for the college's rugby team!
Since graduating, I went to IU South Bend for a year before deciding to enter the workforce. After having several jobs, I worked at the Boys and Girls Club and created fond memories. I transitioned into an Orthotic and Prosthetic Company in South Bend where helped create plaster molds for braces and foot orthotics, and handled product shipment.
I've developed, in my spare time, over the years "My Simple Fitness," an institution in which I teach lessons on fitness and nutrition. This has been a passion of mine for so many years, and with the background in behavioral neuroscience I have seen the many connections between food, physical activity, and environment and our own behavior – especially down to the hormonal and cognitive level. My dream and desire is making a positive and long-lasting impact against the obesity epidemic that is occurring not only in the U.S.A., but around the world.
Through my fitness expertise and inspired by my own weight-loss journey, I have acquired a position at our local Anytime Fitness in Goshen as the Member Experience Manager. I oversee new member orientations and help our staff reach the community in the most effective manner.
How Do You Spend Most of Your Free Time?
First and foremost, I always spend as much time as I can with my wife. She is my best friend and I enjoy hanging out with her. Otherwise, I'm pretty much always on some type of routine. In my free time I'm either reading, working out, or playing video games. I read the bible everyday and usually a chapter in each current book (I balance between 2 to 3 books at one time). I work out around 3-5 days a week for 30 minutes to an hour at a time. The video games are what I do the least of but it's always trying to get that much closer to beating the following: Uncharted, Destiny and Harvest Moon 3DS (and at the rate I'm going…it'll take me about a decade…). Also MOVIES!! My wife and I spend a lot of time actually watching movies, not just one of genre, but of all kinds! We'll watch anything from Bollywood to Korean television shows to the latest action thriller.
I have recently enrolled in the Master's in Ministry Studies program at Grace College, with a focus on counseling. Lindsey has tried to convince me that Grace has the best program around, and I finally gave in. The program has been stretching my faith and teaching me a lot more about the Bible than I've previously known before.
Social:
E-mail: emonge1986@gmail.com
Facebook: www.facebook.com/man.of.goshen
Twitter:  @man_of_Goshen
(I post mostly interesting articles of local news or items related to neuroscience or social psychology)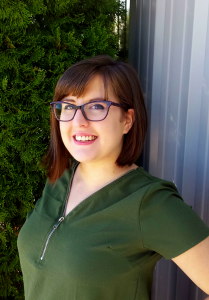 Lindsey Monge
Nickname
Lindsey
Bio:
Hi! I'm from all over northern Indiana and I was raised in a (Protestant) Christian home. My parents work mostly blue-collar jobs: Dad in construction; Mom in janitorial. I grew up with a little brother and little sister who were both a lot more masculine than I am. I always loved people and would talk to anyone who would listen.
My parents took us to church on a regular basis ever since I was a young child. Even though we have moved quite a bit, wherever we landed Mom and Dad would try to find a church that we could all get involved in. Dad started becoming more directly involved in church when he learned to play the drums for our praise band when I was just starting into my teenage years. It was this participation which gave me the opportunity to grow closer to God.
Through the years of moving, I didn't always get the best education for my potential, so toward the end of my sophomore year in high school, I decided to try to graduate early through homeschooling. I quickly learned I wasn't as disciplined as I thought I was, and so I ended up taking just as long to graduate through my own methods as I would in public school. Now I regret making that decision since I would have been able to experience similar things as my peers (like commencement and prom).
However, there is another reason I regret homeschooling; it made it so much easier for bitterness and rebellion toward my parents to grow and for me to move out entirely. While I now know many things through my experience away from my parents, I do regret making that mistake. I have since reconciled with them and we have one of the closest relationships I could have ever hoped for!
Due to the Holy Spirit's work in my heart, I was able to realize that God wanted healing for my relationship with Him and my parents, so after about 6 months away, I moved back into my parents' and submitted myself to their instruction for about another year. During that time, God led me to Grace College, where I have been training in the Intercultural Studies program.
Also during the last few years, God led a wonderful man into my life: my husband Emmanuel (whom we call E-man). We met at a Bible study and have been growing closer together ever since. I recognized E-man's godly spirit very quickly and he was able to convince me to give him a shot. After all the bad examples of men in my life, God was gracious enough to give me my husband, whom I believe is a great example of Christ's love and compassion in my life.
How Do You Spend Most of Your Free Time?
I love working with coffee as a barista and I also love customers and helping people. I have used my background in customer service along with several administrative positions, utilizing my critical thinking and organizational skills as well.
Whenever I'm off, I like to spend time with my husband and my family. My siblings live in Goshen now, so it's easier to see them on a weekends off. My mother-in-law, Sylvia, I call my "Mama Sylvia" but she's more like a best friend to me. We spend a lot of our time either watching foreign movies on Netflix, or talking about God's work in our lives. I love to hear her stories; she is a great example of a godly woman in my life.
I also sometimes get enough time off to enjoy the company of some of my friends I know from Grace College, which is fairly nearby, or from Sugar Grove Church, where we are active members.
Social:
E-mail: marks.lc8@gmail.com
Facebook:www.facebook.com/ellaamma
Twitter: @ellaamma8